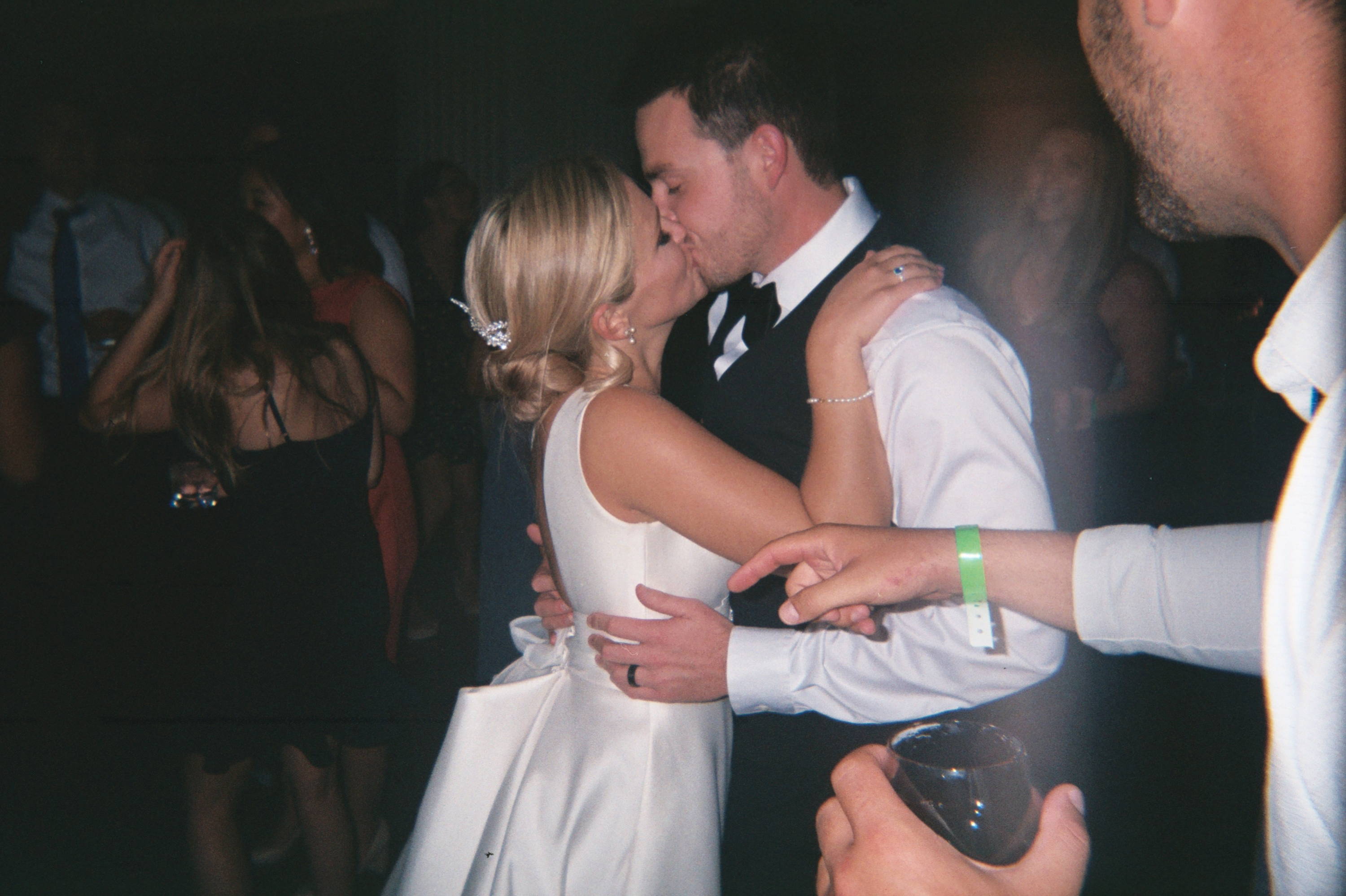 People have recently been asking if disposable cameras are a good idea for their wedding. The short answer, in our humble opinion, is yes – you should absolutely use disposable cameras to make your wedding more unique, memorable, and engaging.

The long answer is the rest of this blog post, in which we will share our experience on the details of using disposables at weddings, give you fun ideas on how to successfully use the cameras at your wedding, and teach you about some of the common complaints and how to avoid them.
Should I Have Disposable Cameras at My Wedding?
Although we may be biased, we think that in some capacity, you should have these amazing, film cameras at you, or your best friend's wedding. What do we mean by "in some capacity"? Well, deciding to get the cameras is step numero uno, but then it is up to you to decide how big of a role they should play.
First, you should decide if these cameras are to be used during just the reception, during the whole wedding weekend, or during all wedding events (ie. The bachelorette party, wedding shower, dress fitting, etc). We recommend getting your cameras early so that you may capture all of the special moments on film. We believe this for two reasons:
Looking back on all of your developed pictures will be so much more exciting and nostalgic when you see all of the events leading up to the big day.

Because each "throw away" camera comes with 27 exposures, we've noticed that not all of the shots are taken by the end of the night if just used during your reception.
Once you decide which events you want captured on film, the only other decision is how, and how many, to have them set up for the union day.
My personal favorite reasons to have disposables at your wedding include: keeping people off their phones, getting behind the scenes shots from the whole weekend, and reliving the joy of that special day.
Setting Up Your Disposables For The Reception
Events like the bachelor/bachelorette party are straight forward – make sure your maid of honor, most gifted photographer, or a few of your best friends have a disposable to carry around. You'll be surprised and excited to see the results!
As for your wedding day, feel free to get creative, but we have seen the best results with two options:
Placing a disposable camera on each (or a certain few) reception tables.

If you want to save some money, and don't think it will hurt any feelings, selecting "fun" tables to get a disposable will yield the best bang for your buck!

Placing a basket full of disposables in a high-traffic area with a sign to encourage people to take them and have fun.

High-traffic areas include the dance floor, reception entrance, etc.
Now that you've got a plan, it's time to think about buying your disposables!
Pure joy. The memories these pictures bring back up after being developed truly embody the feelings of everyone in the crowd.
Where To Buy Bulk Disposable Cameras For Weddings
Just because your wedding costs are through the roof, doesn't mean you can't save a little money where you can. That's why this section is dedicated to understanding your options for buying disposable cameras in bulk.
Before we get started, you should know that there are two explicit costs when you buy film cameras. Because you're taking photos on film, that film has to be developed before it is scanned or printed. Any time you buy a disposable or film camera, you will have to pay for development in order to actually get the pictures off of the roll.
As you look into your options for buying in bulk, remember that the average price for development is $15-$16 per camera. Although the stores that still offer film processing as a service are shrinking, CVS and Walgreens do offer development. At the time of writing, their prices are about $15 (they do not offer bulk discounts) and you'll need to drop them off in person, wait 2-3 weeks and then go back to pick them up. Note: if this sounds a little outdated, that is why Analog was founded :)
As for buying the physical cameras in bulk? The best deal, other than our own, seems to be Walmart's 10pack of Fujifilm Quicksnap or Kodak FunSaver cameras which range from $124 - $129. After some quick math, this works out to be about $12.50 a camera. Add in $15 per camera for development, and you're looking at $27.50 per camera, or $275 for every 10 cameras you get. This does not include any taxes, shipping, or the headache involved in figuring out development for yourself.
If you're looking to save some time, money, and not have those ugly green and yellow colors scattered throughout your wedding, Analog offers a disposable camera wedding package that is cheaper than the DIY method, includes development of your film, and looks so much cuter. Message us at shop@analogcc.com if you're interested in sampling a camera before your big day or ready to buy in bulk.
How Should I Personalize or Customize The Film Camera?
Your wedding hashtag is cute and you want to display it! We totally get it. If you're looking to personalize or customize your cameras for your wedding, our two recommendations are below:
DIY – This option consists of taking a blank disposable and painting, stickering or covering with your own materials. This can be somewhat time intensive and may not actually save you any money in the long run. We would only recommend this option if you have an artist, graphic designer, or general artsy person in your circle.
Use a Company – There are a few options available to have a company customize the disposable cameras for your wedding based on your specifications. This is a great option but should be noted that many are customized by placing a paper box (like a shell) around the disposable. We prefer the stickered look as it looks much more professional and sleek. Another drawback is that for those customizable options that do offer stickers, they tend to be much more expensive and require large minimum orders. Companies that offer a personalized look include Custom Camera Collection,  ECamera Films, SOBO Concepts, and some suppliers on Etsy.
Given enough time, Analog is able to customize wedding cameras based on your specifications. Because it will cost more and take some lead time, we designed our white camera with gold accents and the message "Film Is Forever" inscribed on the back as the perfect, non-customized look for your wedding.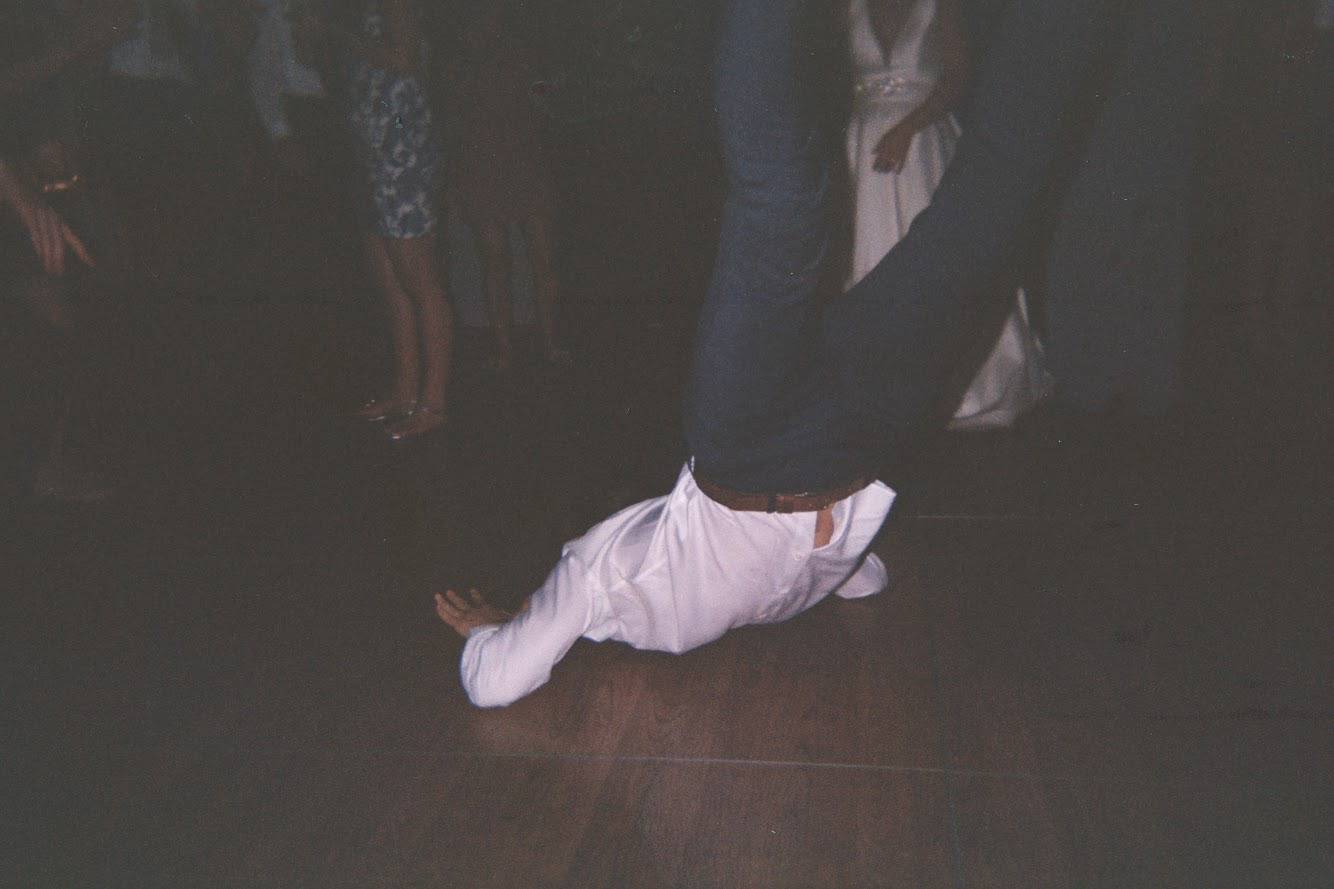 Did someone say "the worm"? Action shots on the dance floor may be one of the best cases for bringing a few disposables to your wedding!
The Disposable Camera Table Sign For Your Big Day
Though we don't think it is necessary to stress about customizing the physical camera, one thing that you can personalize is the sign, or message, that sits next to or near your disposable cameras. For example, this card will have things like the date, wedding hashtag, best practices, and even a prompt list to get people started!
The table sign is where you can really start to get creative and tailor the experience to be your own. While we don't want to influence you too much, a few best practices include:
Matching the design of the sign to your wedding colors

Including the date and hashtag at the top or bottom of your sign

A few tips to get the most from every shot

Some prompts to get people using the cameras
Sometimes it may seem intimidating to take the first shot on a roll. Don't fear, because once that first shot has been taken, the floodgates typically open!
To get you started, we have a downloadable template that you may use and customize for your wedding. The example is below, and if you'd like to download the editable PowerPoint file, click the button below.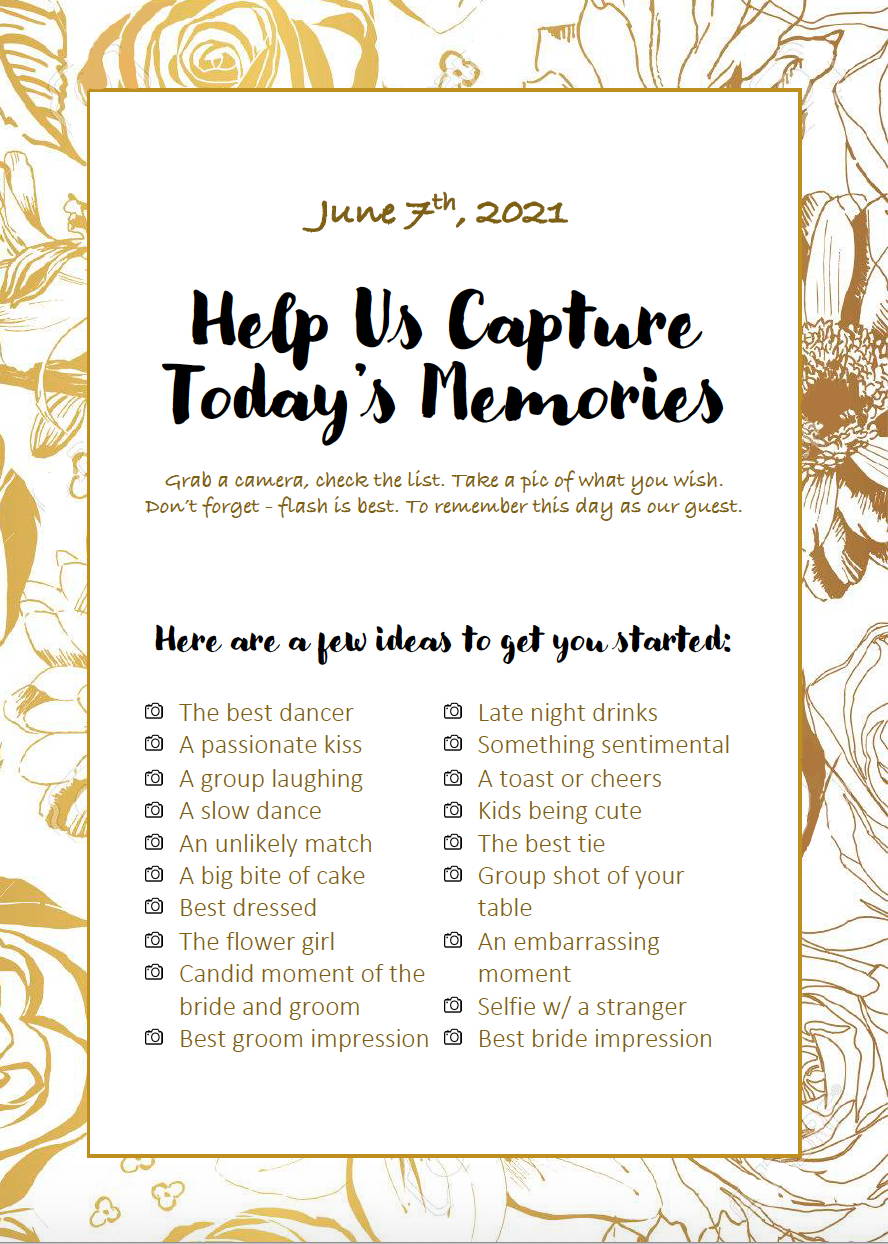 The Do's and Don'ts of Film Cameras at Weddings
DO: PUT DISPOSABLE CAMERAS ON RECEPTION TABLES

When looking back on photos from your wedding day, the pictures often consist of the bride and groom, guests at their tables, and solo shots of those who follow the photographer around all night. By having disposable cameras on the reception tables, you are able to capture fun, candid photos of everyone at the wedding.
And you might be surprised at how great these photos turn out. Especially if you have some Millennials and Gen Z on the invite list. This moment was made for them.
DO: HAVE TABLE SIGNS WITH A GAME OR FUN INSTRUCTIONS

Diversify your pictures by creating an "I Spy" game. Encourage guests to take photos of specific scenes, such as "a bubbly drink" or "people laughing." Inevitably, you will end up with some organic photos that you and your guests will cherish forever.
Additionally, it keeps the guests entertained and encourages them to interact with one another, even if it is Aunt Betty and Joe from college.
DO: INCORPORATE DISPOSABLE CAMERAS INTO YOUR BACHELOR/BACHELORETTE PARTY AND MORE

Why limit yourself to using cameras at the wedding itself? Pass out disposable cameras in your bridesmaid proposal boxes, have a few handy on the party bus, and bring them out to group dinners to capture all of the special moments.
Bring a disposable camera to the dress fitting and catch the bride saying "yes to the dress." Take one on your honeymoon. Use disposables at the reception.
The possibilities for using disposable cameras at your wedding are endless. Get creative and enjoy the ability to look back years from now on an album full of authentic and heartfelt memories from all of your wedding related activities.
Behind the scenes is another secret perk of bringing disposables along. They go where your photographer does not!
DON'T: FORGET ABOUT LIGHTING


This is one of the most common complaints when it comes to disposables. When the pictures get developed, sometimes it is hard to make out what the photo is because the picture was underexposed due to poor lighting. We've all been there.
To avoid this, there are a few solutions:
Not to get too nerdy, but disposable cameras use low ISO film. This means that they do very well in high-light environments but require the flash in dark, dim or even shady situations. We recommend using the flash for every shot taken, except when shooting at a reflective surface like a mirror or glass.  
Include Basic Instructions for Taking the Best Photo
Provide guests with basic best practices for taking photos with disposable cameras as well as ways to make your photo extra unique (see the Ultimate List for Disposable Camera Tips).
This doesn't need to be anything fancy. The point is just to ensure that the lighting is right. Use a creative ribbon curtain and have a white backdrop. As a bonus, you can have props, such as signs, glasses, or a cut-out bride and groom to make the photos more fun.
DON'T: LET PEOPLE CONFUSE THEM AS PARTY FAVORS

Call me the ring bearer of bad news, but some wedding guests are going to take home a disposable camera. Maybe it is on accident – maybe not. Your job is to make that happen the least amount of times as possible.
How? Set up a camera return station by the exit.
This can consist of a return basket to place the cameras in and a sheet where guests can write down their name and email address if they want all of the photos after they are developed.
Don't be afraid to make an announcement during the wedding as well. Encourage everyone to take photos, let them know that you will be saving them the hassle of getting the photos developed, and tell them where to place the camera after they are doing taking photos.
DON'T: LET THE DEVELOPMENT PROCESS DETER YOU

The hassle of getting a disposable camera developed is a major pain point for camera buyers. With a whole fleet of cameras to develop after your wedding, the process can be daunting.
Don't let that be the reason you opt out of using disposable cameras at your wedding. One easy solution to this problem is to use Analog cameras. After you are finished taking the photos on your cameras, simply put them in the pre-addressed return label, and let Analog take care of the rest. You will soon have all of your favorite memories sent directly to your phone and computer.
This makes it easy to share the photos with guests, upload directly to social media, or save to your digital wedding album.
If you're interested, shoot us a message at shop@analogcc.com.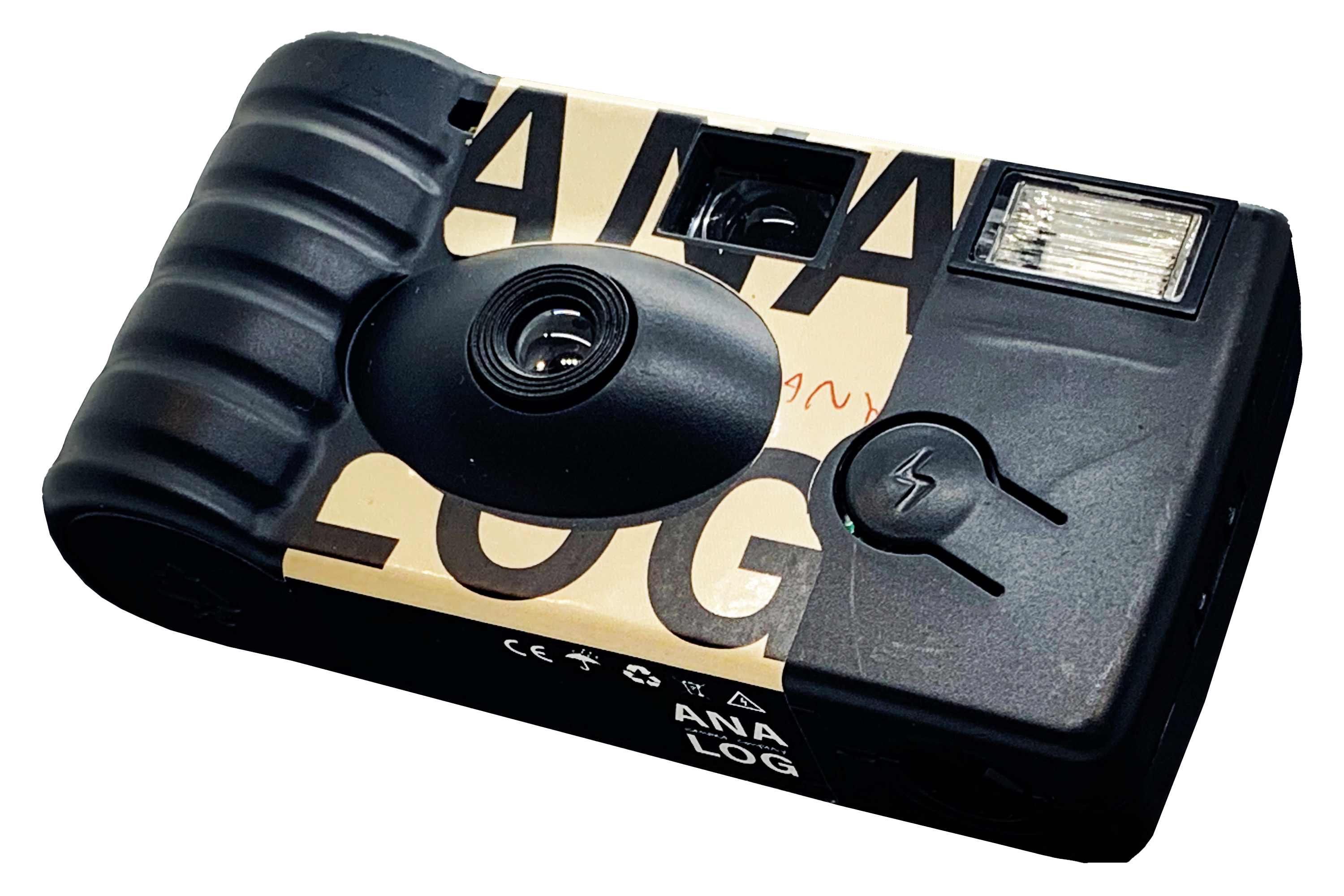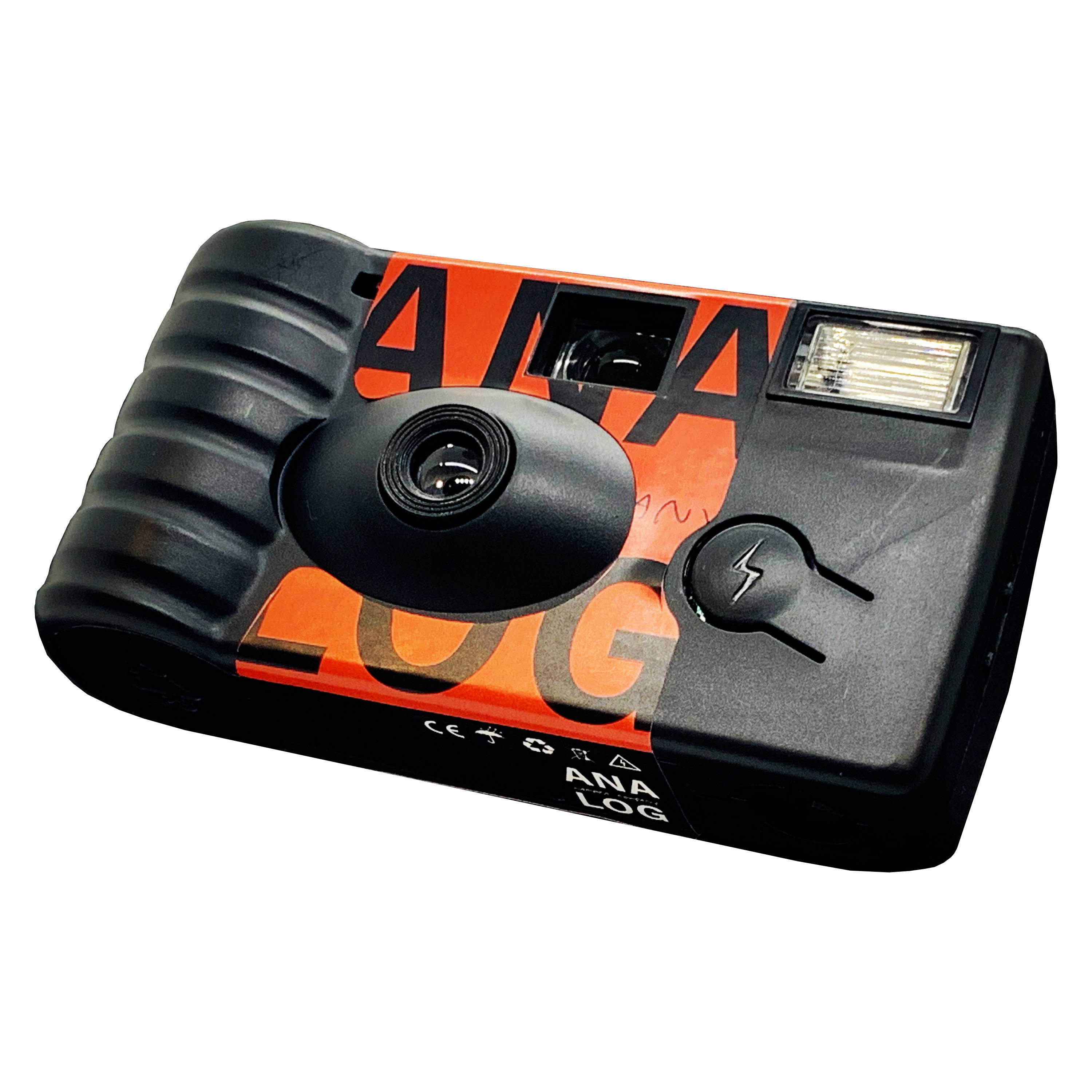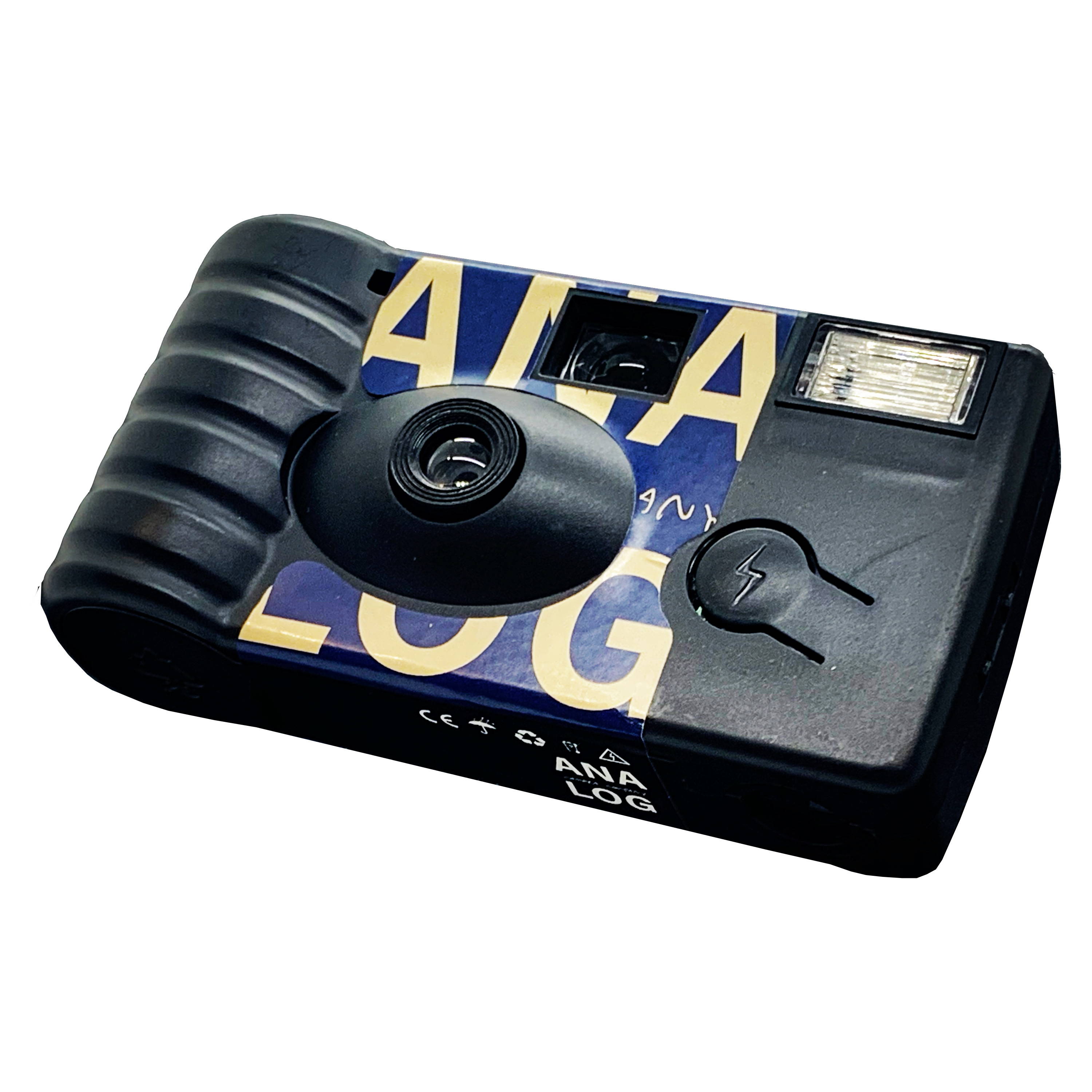 Get more, for less. Analog costs $25 because we INCLUDE development, digital scans straight to your phone and free shipping when you buy a disposable camera with us.
Our cameras use authentic Fuji 35mm film, come with a reliable flash, 27 exposures, and are offered in four beautiful designs. Did we mention you finally get pictures sent straight to your phone?
You can expect about 1-2 emails per month filled with discounts, promotions and exclusive offers. No spam. Ever. That's our promise to you.